COVID-19 Vaccination Townhall, Part 3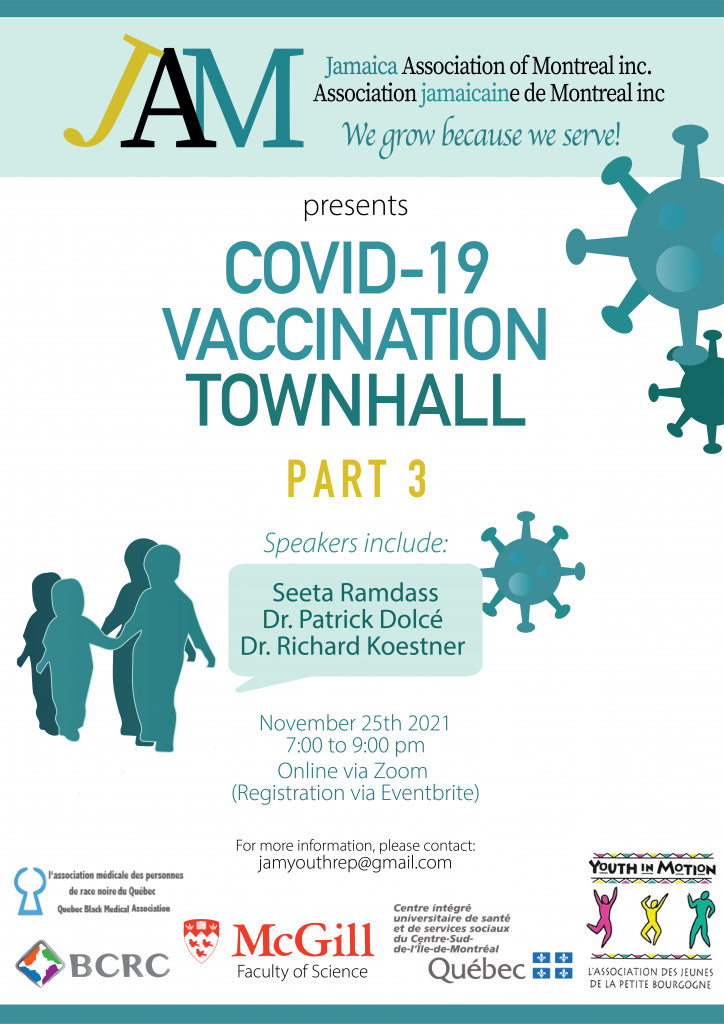 COVID-19 Vaccination Townhall, Part 2
Thursday, October 21st 2021, 7:00 pm-9:00 pm
The Jamaica Association of Montreal presents the second Townhall meeting on COVID-19 vaccination held on zoom. This second session focuses on the current epidemiologic situation, vaccine hesitancy, the vaccine passport, how vaccines actually work and what scientists know so far. 
The event was held in english.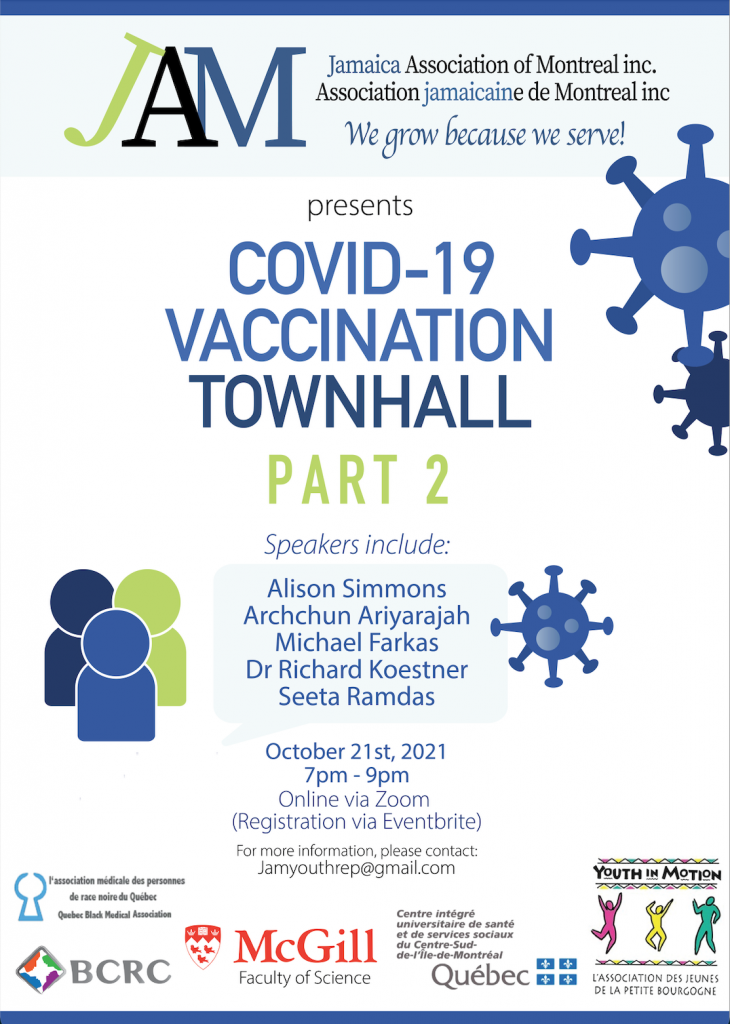 ZOOM conversations on COVID-19 Vaccine Hesitancy in the Black communities
The video recording started with our second speaker Dr. Richard Koestner, PhD, who is a psychologist. He spoke the on potential different ways to discuss about the COVID-19 vaccine with those who are hesitant.
The video continues with our 4 panelists which include Dr. Diane Sare, MD, Michael Farkas, Director at Youth in Motion, Dr. Patrick Dolce, MD and President Nosotech, Medical Microbiologist and Infectious Diseases and Dr. Makeda Semret, MD, Infectious Diseases and Medical Microbiology.
Unfortunately, we were not able to capture our first presenter, Mr. Alix Adrien, who spoke about the situation in the schools as it relates to COVID. Mr. Adrien is the President of the Quebec Board of Black Educators.
Black-Canadian health and medical organizations' position statement on COVID-19 vaccination
This joint position statement from Black- Canadian health and Black-Canadian medical organizations highlights the issue of COVID-19 vaccine distrust within Black communities.
This statement, that is supported by QBMA and several other Black health or medical organizations, examines the impact of COVID-19 on Black communities, the roots of vaccine distrust and how to build vaccine confidence. It recommends concrete solutions for improving health outcomes for Black populations and encourages Black Canadians to get the vaccine to protect themselves and their loved ones.
To read the full document, click here.